Led by a team of industry experts with a wealth of experience, you can trust Audio Mechanics to handle your preservation and migration needs with efficiency, accuracy, and detail, adapting to each client's needs and budget. We are equipped to handle large or small scale preservation projects, from big studio feature films, music collections and newsreel archives, to independent libraries and everything in between. Although we work with some of the biggest archives in the world like the Library of Congress, the Academy of Motion Picture Arts & Sciences, and UCLA Archives, no collection is too small for our attention and expertise. (Preservation credits- CLICK)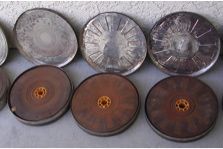 Optical and magnetic assets all around the world are deteriorating due to manufacturer defects in the stock and poor storage conditions. For example, magnetic tape is particularly susceptible to vinegar syndrome if not stored correctly (see picture to the right), and 35mm mag masters from the 80s and 90s are already showing signs of deterioration. If not captured and digitized, the audio on these priceless assets can be lost forever. Audio Mechanics' preservation process is the industry standard in analog transfer, digitization, and migration so you can rest assured that your collection is properly preserved.
Available Preservation Services Include: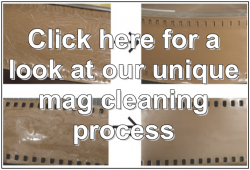 • Cleaning and re-canning for deteriorating or damaged elements
• Metadata verification and digital photo documentation
• High resolution digital capture (CLICK HERE for a list of formats supported)
• Tape dehydration (baking) with laboratory incubator or vacuum chamber
• Film/Tape repair
The Process
1) Physical Inspection and Data Verification: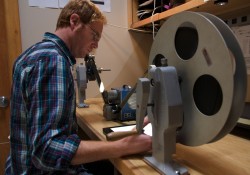 Each asset that arrives at Audio Mechanics is carefully inspected by Nitrate-certified preservationists, and all physical information including labels, paperwork, physical condition, etc. is entered into our database. We even take photos of all the elements! All the data is verified against the client's records, sending data corrections where necessary. Our database is vast and comprehensive, and can be customized to fit each project according to the client's wishes. With one click of the mouse, we can recall all the data, photos, physical condition, and shipping history of any asset that has come through Audio Mechanics. 
2) Audio Evaluation:
Using a combination of physical data and audio evaluation, we carefully determine which assets are in need of preservation. Even if the assets have no labels or physical information, our highly skilled audio engineers can determine which elements are original masters and which elements are inferior or redundant copies. We take careful notes on which elements are missing reels and make recommendations for replacements. All information regarding audio quality is entered into the database, clearly communicating which elements are preferred and why.
3) Analog Transfer and Digitization: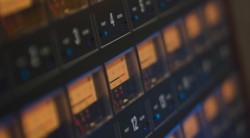 Each preferred element is transferred and digitized, striving for optimal audio quality and fidelity. The transfer is crucial to the preservation process, and without a team of dedicated and experienced transfer engineers, your preservation project can be rendered useless with poor transfer results. Our analog transfer equipment utilizes custom modified audio electronics, as well as audiophile-grade analog-to-digital converters for best possible sound quality capture. Film and tape transports have also been mechanically modified to improve stability when transferring deteriorating masters to maximize safety and sound quality. CLICK HERE for a list of formats supported. 
4) Audio QC, Digital Migration and Delivery: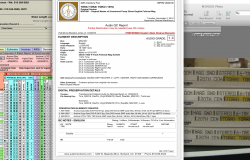 Once analog transfer and digitization is complete, all digital files must pass our proprietary and comprehensive file checker which analyzes the digital integrity of each file and identifies problems that are inaudible to the human ear. Then the files go through audio QC, which ranges from a simple spot QC to 100% QC, depending on the client's needs and budget. Our unique QC process can be tailored to fit the needs of each client individually. We generate detailed QC reports for each asset with information on the physical condition, audio quality, issues found during transfer, as well as data discrepancies found in labeling or missing information. The audio is then delivered in a clear and concise package in the format requested by the client (hard drive, DVD-R, LTO, etc), along with all the detailed reports.